CARTRIGE DUST COLLECTORS
---
 DFPRO TYPE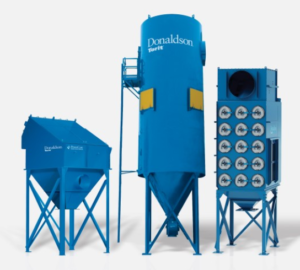 Donaldson DFPRO dust collectors are dust and fume collection systems specifically engineered for various applications including plasma, autogenous and laser cutting. With range from 3-filter model to  16-filter model accomodating flow rates from 2,000 up to 16,000 m³/h / 1,177 up to 9,417 cfm, the collectors use unique oval-shaped cartridge filters making dust and fume filtration more efficient, compact and cost-effective.
The advantages:
 "Plug and Go" unit
Closed coverage type (complete system) and quiet operation
High performance oval-shaped cartridge filters and efficient filter media
Fast and easy installation, easy maintenance with quick-access filters
Energy cost saving due to low energy requirements
The DFPRO oval-shaped filters, in conjunction with our innovative nanofiber filter media, trap more dust on the surface of the filter than conventional commodity types of filter media such as depth-loading cellulose, polyester or cellulose/polyester blend. Oval-shaped filters handle up to 25% more airflow than traditional circular-shaped filters without increasing velocities to ensure efficient dust control.
Brochure: https://www.donaldson.com/content/dam/donaldson/dust-fume-mist/literature/emea/equipment/dust-collectors/cartridge/dfpro/euk/DFPRO-Dust-Collectors.pdf
See the movie: https://www.donaldson.com/en-be/industrial-dust-fume-mist/equipment/dust-collectors/cartridge/dfpro/#section-videos
---
2.  DCE 100 FILTER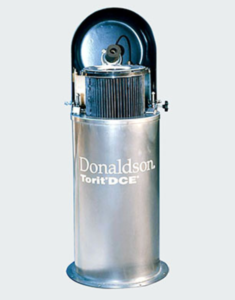 The Donaldson DCE 100 is also available with a plastic liner option especially for the food industry. All filters have anti-static features to allow for all dust types, including explosive dusts.
Advantages:
Compact design with low height and small circular footprint – The small circular footprint of the DCE 100 Air Venting Filter means it can be optimally positioned on the vessel and the overall low height enables easy installation where clearance height is restricted
The range comprises two sizes at 2.5 and 3.6 m² / 26.9 and 38.8 ft² filtration area. It is available as a standard venting unit and as a fan-assisted version. The venting unit can handle air volumes from 200 to 400 m³/h / 117.7 to 235.4 cfm. The fan unit is rated up to 225 m³/h / 132.4 cfm @50 mmWG / 2 inWG.
Durable with high quality stainless steel construction
Hinged top for easy cartridge removal
The DCE 100 series uses proven Ultra-Web® SB filter media as installed in venting applications worldwide. Combining Ultra-Web nanofibre technology with a sturdy spunbond polyester substrate, Ultra-Web SB provides higher efficiency, longer filter life and greater cost savings.
Proven cleaning performance
Better filtration efficiency than commodity bag filter
Ensures CoSHH compliance
ATEX compliance option
A hinged top means cartridge removal could not be easier. The manifold, diaphragm valve and timer components are all readily accessible for easy maintenance.
Brochure: https://www.donaldson.com/content/dam/donaldson/dust-fume-mist/literature/emea/equipment/dust-collectors/cartridge/dce-100/euk/DCE100-Dust-Collectors.pdf
---
3.  ECB workstation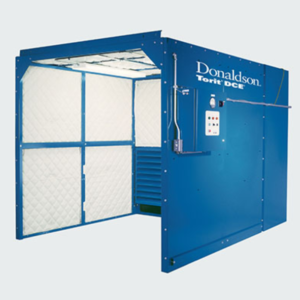 The powerful filtration capabilities of ECB Work Station prevent migration of dust to other parts of the plant, protecting workers outside the booth from the dust and noise generated inside the booth.  Work Station, works perfectelly  for finishing works on large and irregularly shaped parts. With possibility  to remove fine airborne dust from multiple sources without interfering with workers' movement or visibility to ensure efficient dust control. Complete with lighting, sound- proofing and built-in dust collection. It requires no ductwork, and re-circulates the cleaned air for reduced energy costs.
The ECB Work Station can use:
-Ultra-Web® and
-Fibra-Web® filters with our proprietary nanofibre technology withich offer the highest filtration efficiency by eliminating premature filter plugging and allowing the dust cake's release during the collector's cleaning cycle.  With nanofiber filters, dust particles rapidly accumulate on the filter surface to build a thin, permeable dust-stopping cake.
Brochure: https://www.donaldson.com/content/dam/donaldson/dust-fume-mist/literature/emea/equipment/dust-collectors/cartridge/ecb-workstation/euk/ECB-Workstation-Dust-Collectors.pdf
---
BAGHOUSE DUST COLLECTRORS 
---
DALAMATIC®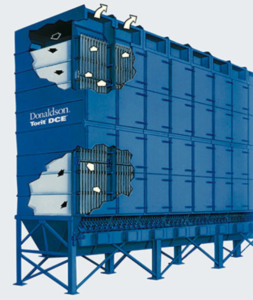 The Dalamatic® series of dust collectors (Cased and Insertable) are unique in that they both come standard with envelope shaped bags and cages, but that is where the similarities end.
It is a stand alone collector with support legs and hopper. The inlet is at the top of the collector to drive dusty air down towards the hopper. This downward air pattern helps to keep dust pulsed off of the bags moving towards the hopper and therefore reduces dust re-entrainment on the bags. This makes the DLMC a popular choice for light and fluffy dust applications.
In contrast, the Dalamatic Insertable (DLMV) has no legs and hopper. The DLMV is used in applications such as bin venting where the collector is mounted on top of a bin or silo and the bags are often times actually inserted inside the top of the bin. As the bin or silo is being filled, dusty air is filtered by the DLMV with cleaned air exiting the collector. Once a dust cake forms on the outside of the bags, a pulse of compressed air inflates the bag and breaks the dust cake free of the bag depositing the material back into the bin or silo so no material is wasted.
Advantages:
Continuous Dust Collection
Compact Design –  modular design, envelope-shaped bags maximize the amount of media

Dura-Life™ Bag Filters – p

rovide better surface loading and better pulse cleaning reducing maintenance and operating costs.
Differents sizes possible
The envelope shape  who provides greater movement of the bag to dislodge more challenging dust cakes during filter pulsing.
Dust accumulates on the outer surface of the filter bag as air penetrates the media
The blowpipe (jet tube) injects a burst of compressed air into the bag filter
Airflow is then briefly reversed, inflating the bag filter and dislodging dust
The dislodged dust cake falls into the collection hopper for final removal or directly back in the process. The envelope-shaped bag filter, which is mounted on a unique wire frame, ensures optimum airflow and thorough cleaning.
Brochure:  https://www.donaldson.com/content/dam/donaldson/dust-fume-mist/literature/emea/equipment/dust-collectors/baghouse/dalamatic/euk/Dalamatic-Dust-Collectors.pdf
2. MODULAR BAGHOUSE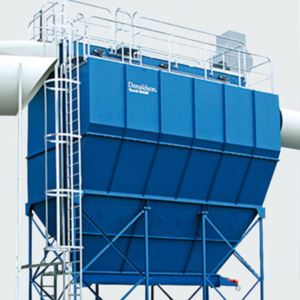 The MB provides reliable service with easy maintenance. Computer designed inlets and deflector plates, coupled with maximized bag spacing, result in opt​imal airflow with minimal abrasion. Advanced valves, providing 50% more cleaning air, result in a more efficient operation. Over the life of the collector, no other baghouse can provide this much value.
The MB advantage is found in the breakthrough technology of our filter bags. Dura-Life™ filter bags and Ultra-Web® pleated bag filters.  Dura-Life filter bags provide twice the life over standard 540 g/m² / 16 oz/yd² polyester bags. Our pleated bag options with Ultra-Web SB, provide longer filter life and reduced emissions. Both options can lower the overall cost of operation of the collector.
High body inlet models allow higher air-to-media ratios on lighter dusts
Square models help minimize ducting and accessory costs
Dura-Life "Twice the Life" Bag Filters
Ultra-Web SB Pleated Bag option
Clean air bag access for easier bag service
Welded design increases durability
Integral fan option reduces space requirements
Quick-Release Filter Bag Cages allow for tool-free installation of bag filters and cages
---
OIL MIST DUST COLLECTORS
---
The reason of a slippery floor in a production plant may be uncollected coolant and oil mist, which can also accumulate on machines and walls creating a hazardous and difficult work environment.
Donaldson Torit® DCE® oil mist dedusting systems remove contaminants from the plant's atmosphere and help maintain a safe and efficient production environment.
WSO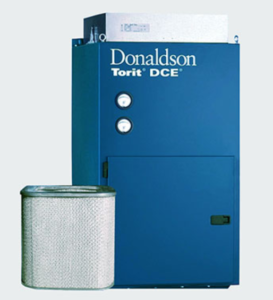 Donaldson's versatile WSOFlex collector provide a more productive work environment by reducing coolant and machining oil mists in a compact package. The WSOFlex can be modified with a simple filter change, leading to leaner operation, cost savings and cleaner plant air.
Advantages:
3 in 1 solutions for water-soluble, straight oil, and oily smoke applications
Choice of coalescent filter media technology (Dryflo® or Synteq XP™) to match your filtration needs
High performance optional 3 stage filtration to efficiently cover specific applications
Cross-flow design for better drainage and extended filter life
A cleaner work environment for maximum productivity
Zero-leak design helps reduce risk of mist-related hazards
Quick and easy filter changes – workers have minimal contact with collected oil
Predictable maintenance with programmable ΔP alerts
Option for machine mounting and floor stands
Up to three filtration stages work together to clean the air with a focus on maximum efficiency and a low maintenance cost.
Brochure: https://www.donaldson.com/content/dam/donaldson/dust-fume-mist/literature/emea/equipment/mist-collectors/wsoflex/f118051/euk/WSOFlex-Oil-Mist-Collectors.pdf
---
POWERCORE ® COLLECTORS
CP SERIE
It's smart to switch to a Donaldson Torit® PowerCore® CP Series dust collector. It uses significantly smaller and more powerful filter packs than baghouses, provides better dust collection, requires less steel, saves transportation costs, and lowers operational costs.
The key is PowerCore filter packs. Combining Donaldson Torit's proven and proprietary Ultra-Web® surface-loading technology with a rugged fluted-media configuration, PowerCore filter packs last longer, clean easier, lower emissions, and eliminate bridging.
Stand-Alone
Torit PowerCore CPC stand-alone dust collectors, available in a range of airflows from 1,189 to 56,067 m3/h / 700 to 33,000 cfm, use less floor space and fit into tight spaces.