POER CORE FILTERS PACKS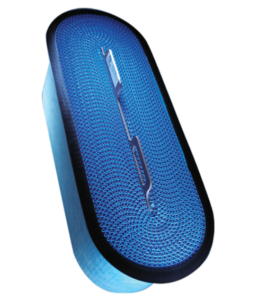 PowerCore® filter packs combine the outstanding performance of Ultra-Web® filtration media technology with the enhanced PowerCore media configuration. The result is a compact filter that does the work of multiple cartridge and bag filters.
Ultra-Web® transformed the dust collection industry by employing a web of very fine, resilient fiber 0.2-0.3 microns in diameter to catch submicron dust particles at the surface of the filter. This advanced surface loading prevents particulate from settling in deep in the filter substrate, allowing PowerCore filter packs to last up to twice as long as filters constructed from traditional cellulose media. The fluted configuration of the Ultra-Web media in each filter pack increases filtration area and efficiency, allowing one filter pack to replace multiple cartridge or bag-style filters. They are also easier to install and maintain than conventional filters, reducing maintenance costs and downtime. It all adds up to filter packs that last longer, clean better and cost less to operate than traditional filters.
Advantages:
Nanofiber web traps dust on the surface of filter
Increased surface loading for prolonged filter life and lower pressure drop
Enhanced dust cake release during pulse cleaning
Fluted media configuration increases filtration area and efficiency
One filter pack does the work of multiple cartridge or bag filters
Standard MERV 13 filtration efficiency to meet specific application needs. MERV 15* also available upon request.
Electrospinnng process produces exceptionally strong fibers as small as 0.2 – 0.3 microns in diameter
See the movie: https://www.donaldson.com/en-be/industrial-dust-fume-mist/filters-parts/powercore-filter-packs/ultra-web/#section-videos
---
HEPA PANEL FILTERS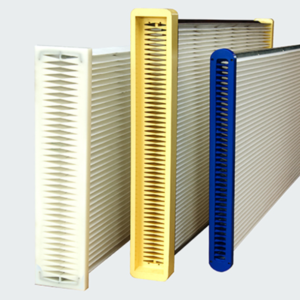 HEPA and DOP panel filters are made of lightweight yet sturdy aluminum, contain superior filter media, and come with built-in handles for easier maintenance.
HEPA Panel Filters
Higher filtration efficiency: 99.97% on 0.3 micron particles (emits three-0.3 micron particles per 10,000 particles)
Exhaust airstream is near breathing zone
Lighter loading applications
Visible emissions are unacceptable
Customer specified HEPA level filtration
95% on 0.3 micron particles (emits 500-0.3 micron particles per 10,000 particles)
Heavy loading applications
Exhaust airstream is not near breathing zone
Customer specified 95% DOP level filtration